For More information on March real estate activities, click the link!
Some industry experts are claiming that the housing market may be headed for a slowdown as we proceed through 2017, based on rising home prices and a potential jump in mortgage interest rates. One of the data points they use is the Housing Affordability Index, as reported by the National Association of Realtors (NAR).
Here is how NAR defines the index:
"The Housing Affordability Index measures whether or not a typical family earns enough income to qualify for a mortgage loan on a typical home at the national level based on the most recent price and income data."
Basically, a value of 100 means a family earning the median income earns enough to qualify for a mortgage on a median-priced home, based on the price and mortgage interest rates at the time. Anything above 100 means the family has more than enough to qualify.
The higher the index, the easier it is to afford a home.
Why the concern?
The index has been declining over the last several years as home values increased. Some are concerned that too many buyers could be priced out of the market.
But, wait a minute…
Though the index skyrocketed from 2009 through 2013, we must realize that during that time, the housing crisis left the market with an overabundance of distressed properties (foreclosures and short sales). All prices dropped dramatically and distressed properties sold at major discounts. Then, mortgage rates fell like a rock.
The market is recovering, and values are coming back nicely. That has caused the index to fall.
However, let's remove the crisis years (shaded in gray) and look at the current index as compared to the index from 1990 – 2008: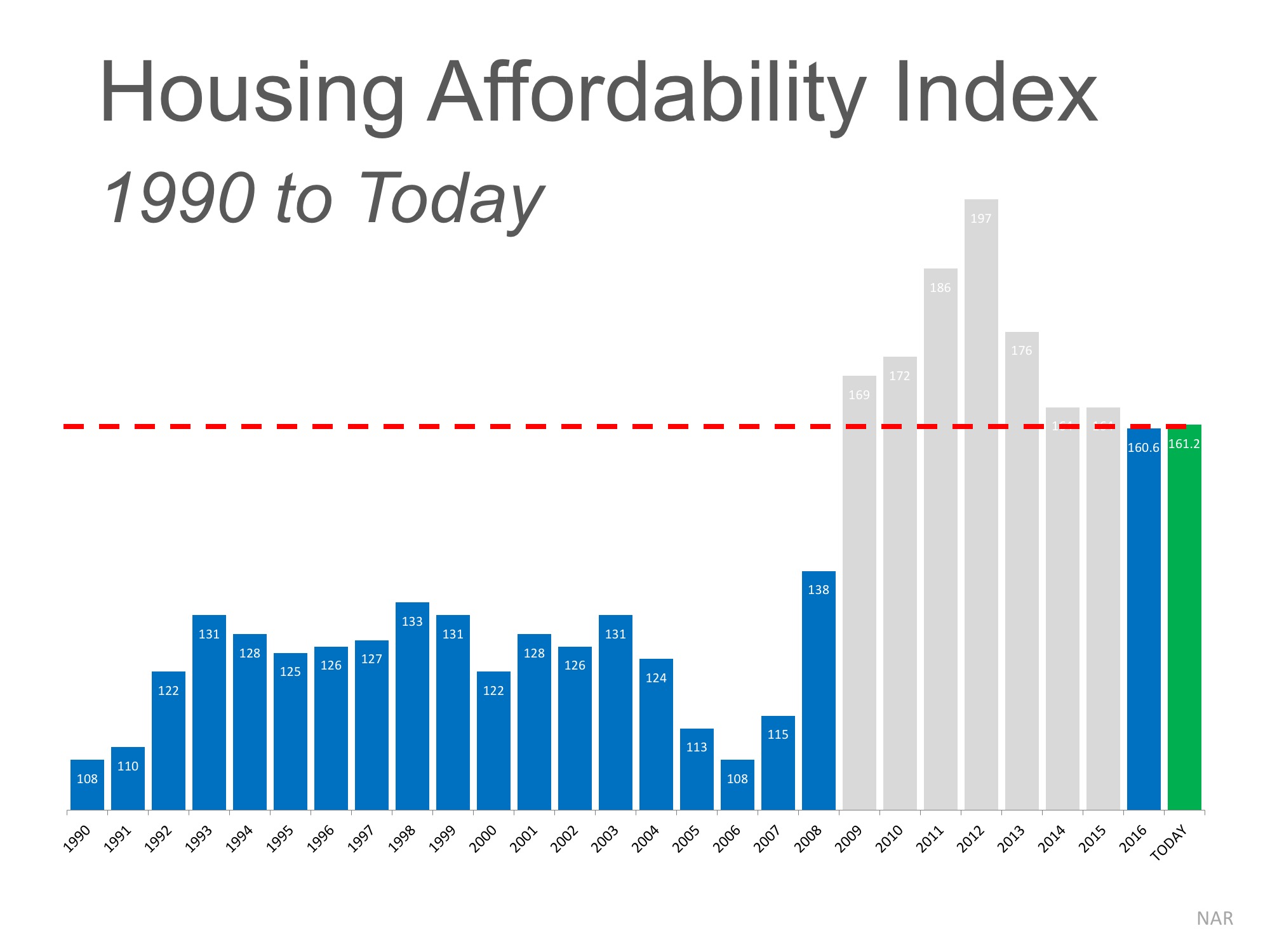 Though prices and rates appear to be increasing, we must realize that affordability is composed of three ingredients: home prices, interest rates, and income. And, incomes are finally rising.
ATTOM Data Solutions recently released their Q1 2017 U.S. Home Affordability Index. The report explained:
"Stronger wage growth is the silver lining in this report, outpacing home price growth in more than half of the markets for the first time since Q1 2012, when median home prices were still falling nationwide. If that pattern continues, it will help turn the tide in the eroding home affordability trend."
Bottom Line
Compared to historic norms, it is still a great time to buy from an affordability standpoint.
Whenever there is talk about an improving housing market, some begin to show concern that we may be headed toward another housing bubble that will be followed by a crash similar to the one we saw last decade.
Here are five data points that show the housing market will continue to recover, and that a new housing crisis is not about to take shape.
1) Mortgage availability is increasing, but is nowhere near the levels we saw in 2004-2006.
A buyer's chances of being approved for a mortgage have increased over the last three years; That's good news for the market. This is not a precursor to another challenge, as many experts maintain that it is still too difficult for many buyers to attain house financing.
As Jonathan Smoke, the Chief Economist of realtor.com, recently explained:
"The havoc during the last cycle was the result…of speculation fueled by loose credit. That's the exact opposite of what we have today."
2) The Housing Affordability Index, which measures whether or not a typical family earns enough income to qualify for a mortgage loan on a typical home, based on the most recent price and income data. The current index shows that it is more affordable to buy a home today than at any other time between 1990 and 2008. With median incomes finally beginning to rise, houses should continue to remain affordable and housing demand should remain strong.
3) Home prices are well within historic norms. Prices have increased substantially over the last several years; However, those increases followed the housing crash of 2008 and national prices are still not back to 2006 levels. If there were no bubble (and subsequent bust), today's prices would actually be lower than if they were measured by historic appreciation levels from 1987-1999.
4) Demand for housing, as measured by new household formations, is growing. The Urban Land Institute projects that 5.95 million new households will be formed over the next three years. Even if the homeownership rate drops to 60%, that would be over 3.5 million new homeowners entering the market.
5) New home starts are finally beginning to increase. This helps eliminate the number one challenge in the industry – lack of inventory. And it does so in two ways:
Some first time buyers will, in fact, purchase a newly constructed home.
Many current homeowners will move-up (or move-down) to a new construction and then put their current home on the market.
This means that there will be an increase in both new construction and existing home inventories.